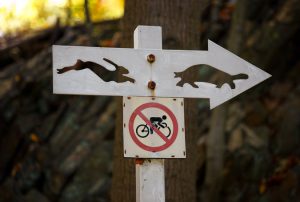 Van Cortlandt Park's Cross Country running trail has been a Mecca for the sport for over 100 years. The course opened in 1913 looping throughout the park. In the past races took place on the golf course and on other trails. The cross-country trail was later re-routed to accommodate three major thoroughfares that were built through Van Cortlandt Park.
The Cross Country trail bridge was added to link two divided sections of the park, and is still in use today. The park's hilly geology of Fordham Gneiss outcrops offers great challenges for runners. The steepest part, known as "The Wall," tests every runner's stamina. Starting in the flats of the Parade Ground and circling over Vault Hill, the course winds through the Northwest Woods and ends back at the Parade Ground.
Every weekend in the fall, races are held, the largest being the Manhattan College Cross Country Invitational, which has drawn approximately 12,000 high school participants annually from across the continent. It is not only the largest event in Van Cortlandt Park but also, according to the organizers, the largest high school cross country meet in the country.
For Generations of Runners, the Ultimate Test
(Mary DiBiase Blaich for The New York Times)
The park's cross-country course is legendary — a grueling stretch of wide flats and twisting trails that has tested up-and-coming high school and college runners for over a century.
"Van Cortlandt was the ultimate," said Matt Centrowitz, an Olympian who began as a standout at his Manhattan high school in the early 1970s. "Kids would come from Massachusetts and Maryland. The point was, if you were a star in any state, you came to Vannie like a gunslinger. Guys came ready for war."
Many got their earliest taste of hard-earned victory along Van Cortlandt's rugged 2.5-mile high school course. The route started with a mad dash across the flats, then a jostle for position along a narrow cow path, looping through treacherous back hills and on to the final straightaway.
"The excitement of going to Van Cortlandt, I don't know if there is anything else to equal that," said Mr. Liquori, who went from setting course records while at Essex Catholic in Newark to a storied career at Villanova University and a rivalry with Jim Ryan.

"Even if you got to the Olympics, you developed the routine for handling stress at Van Cortlandt when you get off the bus and saw 10,000 kids there. You're 15 years old, without a whole lot of belief in yourself thinking you're going to be the 10,000th kid running that day. It was nerve-racking."
Not that Mr. Centrowitz needed any reminders of where his career started. He lived about a mile south of the park on Broadway, and attended Power Memorial, a Catholic boys' school near Lincoln Center that closed in 1984. Summers and weekends were spent in Van Cortlandt, running with his high school rivals and college heroes.
The course was a tough slog then, studded with roots and rocks. The start of a race unleashed a fury, with hundreds of runners swarming over the flats like a teenage production of "Lawrence of Arabia."
"Vannie made city kids tougher," said Mr. Centrowitz, who's skill at running the 1500 meters earned him a spot on the American team in the 1976 and 1980 Olympics. "The rocks, the hills, the wind always in your face at the end."
Mr. Liquori counts the course as among the most challenging anywhere, saying it set a standard for young runners hoping to be noticed by college scouts.
"It was the yardstick everybody on the East Coast could be judged by," he said. "Unfortunately, if you were a kid who only ran it once in your junior or senior year, it was like only getting to take the SAT once. For some of us, there was a lot of pressure because this was where and how you got your college scholarships."
"I've seen championships held on gently rolling golf courses," said Adrian Benepe, the city's parks commissioner. "That's not cross-country. It's not cross-country until you've charged across that parade ground and into the hills."
A COUPLE OF RENOWNED COACHES TALK ABOUT THE COURSE
Coach Gags
Legendary coach Frank Gagliano is currently Head Coach at the NJ★NY Track Club
"I started in 1960/61 and Van Cortlandt Park is to me and many others THE greatest cross country course because of the legends who have run there. It hasn't changed, the courses are the same whether it's 3 miles or 5 miles, whatever, but the terrain has changed. It's very groomed now, very smooth – it's faster now and the times have changed. It used to be much rougher, all the rocks sticking through. It's still very tough though – the back loop, cemetery hill. It's a great spectator course too, whether you're jogging across as I used to do, or you're standing on Broadway.
"Van Cortlandt Park has this tremendous tradition, especially in the east, really tremendous. I couldn't even choose a favorite memory there are so many. It's been so much fun watching the racing there, men and women – because we have some very good women in the east – whether it's the National Championships, the NCAA's or even the HEPS. It's simply a tremendous venue."
Pat Tyson
Pat Tyson is Director of Cross Country and Track & Field at Gonzaga in Washington. An esteemed athlete himself, he was a roommate to Steve Prefontaine before he embarked on a successful coaching career. Over the course of two decades he turned Mead High School into a distance running powerhouse, and then, moving into college running, he coached at the Universities of Oregon and Kentucky before settling at Gonzaga.
"Pre loved Van Cortlandt! So much tradition! I've worked out there but I didn't compete there – as a West Coast guy though, I think I have a very good perspective on what might be the most pre-eminent cross country course on American soil. As long ago as 1969 my teammates competed in the NCAA Division 1 Collegiate Championships placing third. That was the first National Championship in which Steve competed. It was an epic battle between Pre, the two time NCAA Champion Gerry Lindgren of Washington State, and Michael Ryan of Air Force who had won the title in Van Cortlandt in 1968.
Fast forward to October 2011 and Oregon junior Edward Cheserek became the first high school kid to break 12:00 with his 11:55.4 performance. Running for St. Benedict's Prep (Newark), Cheserek ran a time that would blast previous great high school competitors who have tested the 2.5 mile layout: Alan Webb by 23s; Alberto Salazar by 27s; Marty Liquori by 28s. All three have American Records, were Olympians, and continue to be icons in American Distance running.
Most runners would say that running in Van Cortlandt is a rite of passage and so much of the energy comes from Van Cortlandt itself. The sixth of Pat Porter's USA XC Championships came at Van Cortlandt, so this is the place – it's the Wrigley Park, Hayward Field or Bislett Stadium of distance running in America."
Over 50 years ago my running career began the way most do in New York, with a trip to Van Cortlandt Park in the Bronx for a high school cross-country race. It was an inauspicious debut to say the least. My 1962-63 racing diary from junior year at Sheepshead Bay High in Brooklyn contains this comment about a team time trial on the 2.5-mile course: "Stopped five times. First time on course. Terrible experience."
I actually wrote those words over 50 years ago: terrible experience.
Yet I have run at Van Cortlandt every year since and found it to be a wellspring of athletic purity and a touchstone of grace and empowerment, as have thousands of other runners. My time that day was an embarrassing 21 minutes 50 seconds. I improved by about four minutes in '62 — and completed the course without stopping — but never broke out of what the Public Schools Athletic League then designated the "scrub" division, sort of a third-string junior varsity.
"C'mon, Bloom, blossom!" my coach, Richard Lerer, would call out as I charged the opening flats and into the notorious back hills. Blossom I did not. But the honesty and even spiritual quality of a hard-fought cross-country race found a place in my heart, and over the decades little that happened at Van Cortlandt eluded my embrace.