I wanted to share some of my experiences with you from the Brooks Awards Ceremony. First, I have to start off by saying it was one of those experiences of a lifetime. It was so wonderful to meet coaches from all parts of the country and engage in some serious and light conversation, as well as laughter. At the end of this journey we were hugging each other good bye and exchanging phone numbers and e mail addresses. It was truly wonderful.
The Brooks people treated us like royalty. In addition to the awards ceremony, they paid for the entire trip, including meals, hotel, and picking you up and dropping you off at the airport in a Lincoln Town Car.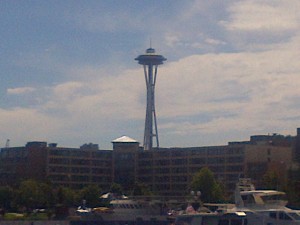 The first picture (above) is of course, one of the first things you will notice in Seattle. The famous "Needle."
Later that first night, we all walked together about a half mile to a great Italian restaurant, Buca di Bepo. It was filled with tons of pictures of famous celebrities that have frequented the restaurant. Our Brooks representative led us to the back room and told us to sit anywhere, order anything and as much as we wanted, stay as long as we want, and enjoy ourselves. He said this trip is their way of giving a little back for all that you have given the sport. He left us and came back hours later to pay the bill. Many of us still did not leave and stayed and continued to engage in great conversation. The entire dinner, I sat across from Coach Renee Smith-Williams (the eventual winner) and thoroughly enjoyed our time and talk together. As it turns out, her team can truly use the additional $5,000 because they have to fund raise at her school for uniforms and all equipment. Makes you appreciate what you have and remember not to take it for granted.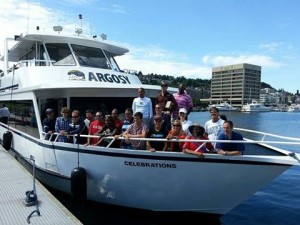 The next day, we left at 11:30am and walked about a mile to this dock to begin a 3 hour lunch-cruise on Lake Union and Lake Washington. The weather was in the 70″s and the lake views were spectacular (as I will show you a few pictures below). We passed unbelievable homes of famous people along the lake such as, Bill Gates (no introduction needed), Martin Cooper (inventor of the cell phone), and Howard Shultz (CEO of Starbucks and former owner of the Seattle Supersonics basketball team). All the while, everyone went to different parts of this very large yacht to share some time and continued conversation with fellow colleagues. By the end of this trip, I truly got to know every one of the coaches.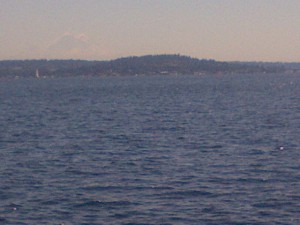 This picture above is when we left Lake Union and entered Lake Washington. If you look carefully at the top left portion of the photo, you can see the ice and snow capped image of Mt. Rainier. It is 57 miles away from Seattle, but is so huge, that it looks only like it is a few miles away. It is the largest mountain in the State of Washington and 3rd largest in the United States. What I did not realize is that is still considered one of the most dangerous volcanoes in the world!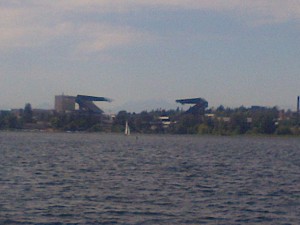 On the return trip, I snapped this picture (above) of the University of Washington's Huskie Stadium. The entire university borders along Lake Washington.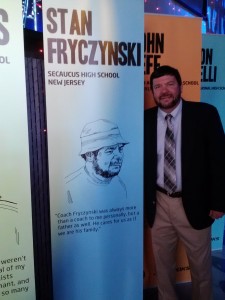 Later that evening, we were picked up by a full sized custom bus that shuttled us to our destination. All of the coaches were joking with each other how we would love to have this bus for traveling to our meets! As we entered the Pacific Science Center Museum for the awards ceremony, there were these 6 foot stands scattered all over the lobby and auditorium which had posters of each one of us. They are actually mailing these to us shortly. The evening started with a cocktail hour and then a beautiful awards ceremony that was opened by the CEO of Brooks Running Company. He made certain to remain afterwards to individually speak with each one of us – class act. They called us up one at a time and presented us with a bronzed track spiked shoe. It really is a beautiful piece. Behind the dais was a movie theatre sized screen that showed images of us as we rose to accept our awards.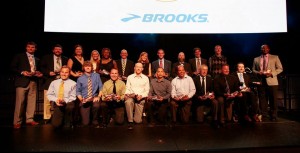 At the end of the 3 hour ceremony, we were asked to get together for a group shot. They then had some additional coffee and dessert waiting in the lobby for us to go out and continue to mingle with everyone. Many of the Brooks employees were in attendance and they were very outgoing and wanted to meet and talk to us. When the night finally ended – it didn't. The bus dropped us back off at our hotel and everyone wanted to stay out longer and relish the evening and continue to bond. The chemistry of our group is impossible to explain, but special is a word that first comes to mind.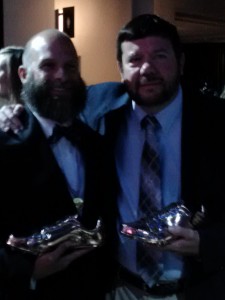 I became especially friendly with Coach Jason Capelli (above) , the other New Jersey award winner from Pinelands Regional HS. I truly believe we will continually stay in touch with each other as a result of this experience.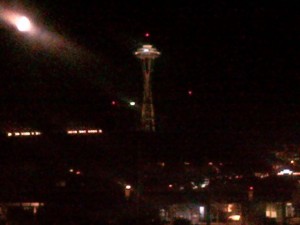 As I eventually walked back to the hotel talking with another coach from Florida, I snapped this shot of the "Needle" with the moon shining on it.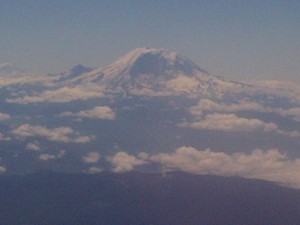 The next day on my flight, I took this picture of Mt. Rainier from my window seat. It was a breathtaking sight.
This was a trip beyond description. Something that I will never forget. I am proud to be a coach, proud to represent Secaucus HS and the entire Town of Secaucus, and proud of all of my athletes (past and present).
My special and heartfelt thanks to all of my nominators (and your special book gift) and my entire XC team! Another special thanks to Chris and Kathy for going above and beyond. Thank you to the administration, faculty, and fellow coaches in the Secaucus School District, Secaucus BOE, Mayor Gonnelli and the Town Council, and the citizens of Secaucus. My thanks to my lovely bride Carolyn, my entire family, personal friends, and my wonderful running alumni who sent their best wishes, the e mails, the phone calls, the text messages (I am amazed my phone and computer didn't explode) …….it has all been so special. Your support and encouragement throughout all of this was warmly appreciated and will not be forgotten. I hope I have not forgotten anyone.
One more thank you. To my daughter Amy – I love you with all my heart.
I have said thank you a thousand times and I am certain that I will repeat those words another thousand.