Running Sayings
–Pre Quotes
Who is Steve Prefontaine? Why makes his legacy so intriguing decades later?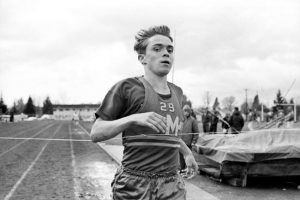 Prefontaine at Marshfield HS, Oregon in his sophomore year 1969
As a high school and college runner, he was very much in the back of my mind because he was the news of the day. However, all these years later and coaching for as long as I have, I appreciate his qualities even more. The nuts and bolts of what made him the runner he was. Many, like myself, often wonder what would have been, had he not passed away. His potential was enormous, but his will and desire to run and win was off the charts. That is perhaps what keeps his memory so alive. He is an inspiration to men and women runners alike. Below is a bio of him and a list of his more famous quotes. The first quote happens to be my most favorite. -SF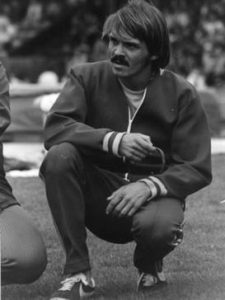 "Pre" at the University of Oregon (Source-wikipedia.org)
…………………………………………………………………………………………………………………………………………………………..
Charismatic, handsome and brashly confident, Steve Prefontaine was one of the leading American distance runners of the early 1970s. Steve Prefontaine won seven NCAA championships while running for the University of Oregon from 1969-73 (three in cross-country, four in the three-mile race) and finished fourth in the 5000 meters at the 1972 Munich Olympics. In his four years at Oregon, Prefontaine never lost a collegiate (NCAA) race at 3 miles, 5,000 meters, 6 miles, or 10,000 meters. Prefontaine set more than a dozen American records at distances from 2000 meters to six miles before his sudden 1975 death in a one-car accident in Eugene, Oregon, just a few hours after running his final race at Hayward Field in Eugene.
-Pre Quotes
"To give anything less than your best is to sacrifice the gift."
"Some people create with words, or with music, or with a brush and paints. I like to make something beautiful when I run. I like to make people stop and say, "I've never seen anyone run like that before." It's more then just a race, it's a style. It's doing something better then anyone else. It's being creative."
"Having a true faith is the most difficult thing in the world. Many will try to take it from you."
"Don't be afraid to give up the good to go for the great."
"You cannot propel yourself forward by patting yourself on the back."
"A man can fail many times, but he isn't a failure until he begins to blame somebody else."
"Life's battles don't always go to the strongest or fastest man,
But sooner or later the man who wins is the fellow who thinks he can."
"Success isn't how far you got, but the distance you traveled from where you started."
"Many of life's failures are people who did not realize how close they were to success when they gave up."
"If you fail to prepare, prepare to fail."
"Something inside of me just said 'Hey, wait a minute, I want to beat him,' and I just took off."
"You have to wonder at times what you're doing out there. Over the years, I've given myself a thousand reasons to keep running, but it always comes back to where it started. It comes down to self-satisfaction and a sense of achievement."
"A race is a work of art that people can look at and be affected in as many ways they're capable of understanding."
"A lot of people run a race to see who is fastest. I run to see who has the most guts, who can punish himself into exhausting pace, and then at the end, punish himself even more. Nobody is going to win a 5,000 meter race after running an easy 2 miles. Not with me. If I loose forcing the pace all the way, well, at least I can live with myself."