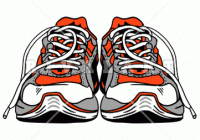 RUNNING SHOES
A quality pair of running shoes ( HIGHLY SUGGESTED – two pairs) are the only piece of equipment that you are responsible for. Make sure your decision in running shoes is a very good one. Don't pick a pair of shoes because they look stylish or they are on sale. It has to be a solid shoe, well padded inside, good sole and heel, and it must fit you properly and be comfortable. You get what you pay for. Injuries can often be attributed to poor quality shoes. Go to the store with a pair of running socks on when sizing up and trying out shoes. After you buy them – wear them in normal daily use at home or outside for regular daily activities. Break them in properly. Do not wear them to a practice without having broken the shoes in with normal walking beforehand.
I can't tell you what brand to pick, but Brooks (the site is on the team web page) does tell you how to properly pick the right kind of shoes for yourself. I would suggest you read that for some solid information.
The biggest mistake you can make is to NOT select a pair of shoes that fit and feel well because of style. Style and color does not prevent injuries or win races.
If you have been a fan of Brooks, remember that I can get you 40% off (+$5.00 shipping). If you want me to order a pair for you, all you need to do is ask. That is a huge savings.